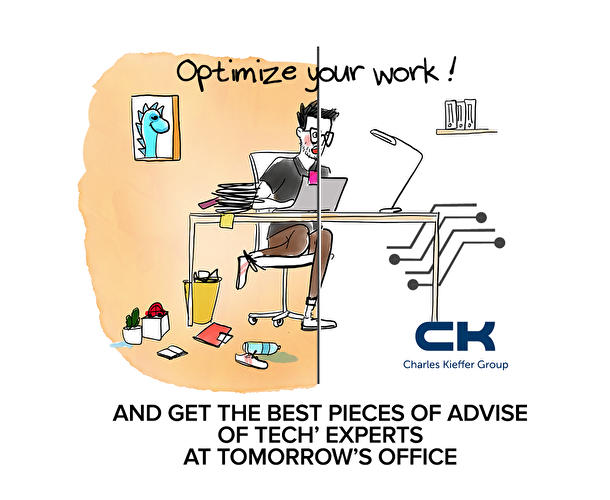 View on the News
Overcome tomorrow's problems with the office of the future
Helloboss has found the event for you to discover the office of the future and the latest trends to be at the forefront of technological advances 💻 .
With Tomorrow's Office 2020, you will have the chance to participate in not just one, but two days of innovation, networking, and conferences to answer the current issues of the corporate world.
And, what does it consist of, practically speaking? 🤔
During 2 days, you will have the opportunity to meet a lot of professionals from the tec' world, such as Pierre Di Baris Audiovisual Supervisor, or Nicolas Hardy, IT Sales consultant... and to network at all times. Participate in various conferences to learn how to automate your tasks and finalize them in a flash to make your life easier. To listen to inspiring Success Stories about artificial intelligence to boost your productivity. Discover how to keep all your power, whether you're out in the field or at the office. Or become the undisputed master of duplex printing 🖨️.
This event will be a great opportunity to extend your knowledge! The first day will focus on the human aspect in business relationship, with a talk by Abdu Gnaba, the founder of Sociolab. The second will allow you to perfect your liking for technology.
So, still hesitating to go to the event? 😏
Or you want to subscribe right now!
Since the Covid crisis you might don't know how to welcome your customers in good conditions, you will discover the solutions to put in place to make their life easier and to ensure them a top experience in spite of the sanitary conditions. You are wondering about your relationship with technologies, and still hesitate about the fact that it is the solution to improve your performances?
Don't worry, we have chosen the best people to advise you during this event, we are talking about the Charles Kieffer group, specialized in digital solutions. And on top of that, they perfectly manage document printing and image processing.
See you at the CK Expérience Room for these two days of discovery on October 21st and 22nd! 🔝
---
---
---